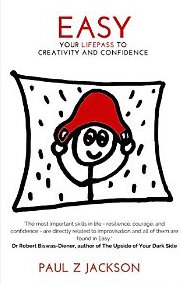 And now to something in danish:
Jeg læser i øjeblikket med stor begejstring min kollega Paul Z Jackson's seneste bog – "Easy – Your Lifepass To Creativity and Confidence".
Det er en praktisk bog om improvisation og hvordan evnen til at improvisere kan komme dig til gavn i dit arbejde og dit liv.
Den handler om at være kreativ og forblive fleksibel indenfor givne (og til tider meget stramme) rammer.
Denne artikel har fokus på improvisation og små virksomheder og selvstændige men improvisation er i høj grad også noget som er nødvendigt i arbejde med store grupper. Derfor har jeg også planlagt et interview med Paul om det at bruge improvisation i processer med grupper.